Top 6 Reasons You Should Be Using Duvet Covers
A beautiful bed is a key to a stunning bedroom.
It's the centerpiece and the first thing that draws the eye.
You can have stunning furniture but a messy or unattractive bed and none of the rest matters.
When it comes to creating a gorgeous bed,
you typically have two choices: a duvet cover or a comforter.
Both options offer comfort, design, and practicality.
However, only one option should be your first and only pick when it comes to your bedroom.
Duvet covers win, hands down.
What Is a Duvet Cover?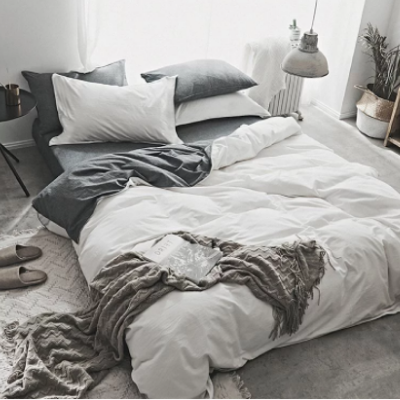 A Duvet Cover works like a giant pillowcase for your duvet inserts.
Made out of a variety of fabrics, it's a simple slipcover
that generally has a zipper enclosure with duvet ties inside
to hold the inserts in place and protect it from becoming soiled.
But don't just take our word for it.
We've outlined the top six reasons you need a duvet cover today.
Variety

Duvet covers come in a variety of styles and designs.
They can be made from almost any type of fabric and come in a range of looks.
The options are endless.
Affordability
Comforters can be expensive.
Duvet covers, on the other hand, are generally lower priced
because all you're paying for is the fabric.
This means that you can easily and affordably redecorate your bedroom on a whim,
or choose a new duvet cover for every season.
The perfect option for someone who wants to stay stylish while on a budget.
Versatility

A comforter can only be one thing, a comforter.
But since duvet covers are just light pieces of fabric, you have more options.
You can easily remove the heavy-down comforter in the hotter summer months and simply use the light and cool duvet cover until it gets cold again.
Easy to Clean
Have you ever tried washing your comforter?
First of all, it's almost impossible to fit the entire thing in your washing machine.
Then, drying is an absolute nightmare.
With a duvet cover, you can put your cleaning worries to rest.
All of our duvet covers are machine washable and are as easy to clean as your sheets.
Simply remove the duvet insert and throw the duvet cover in the wash, and violá!
A fresh room in no time at all.
Protection
Comforters can get dirty.
No matter how careful you are, you have to live in your bedroom, and that means body oil, dirt, food, drink, make-up,
and more all collect on your comforter until the once beautiful design is hidden behind a bunch of muck.
Duvet covers protect this expensive investment.
With a duvet cover, you can purchase a high-quality duvet insert and not worry about stains and tears.
When washing your duvet cover, you can still use the insert at night
Maximum Comfort
Let's be honest; many comforters aren't that comfortable as they are stuffy and rough.
Most of the time it's because stores are so worried about a great design that they skimp on the filling.
With a duvet cover, you don't have to worry about that.
You can find the most comfortable duvet insert possible no matter what it looks like.
Then, just hide it inside a duvet cover that fits your style and design.
This means you can go for the ultra-plush, fluffy option without sacrificing the beauty of your bedroom which comes with our latest duvet insert.