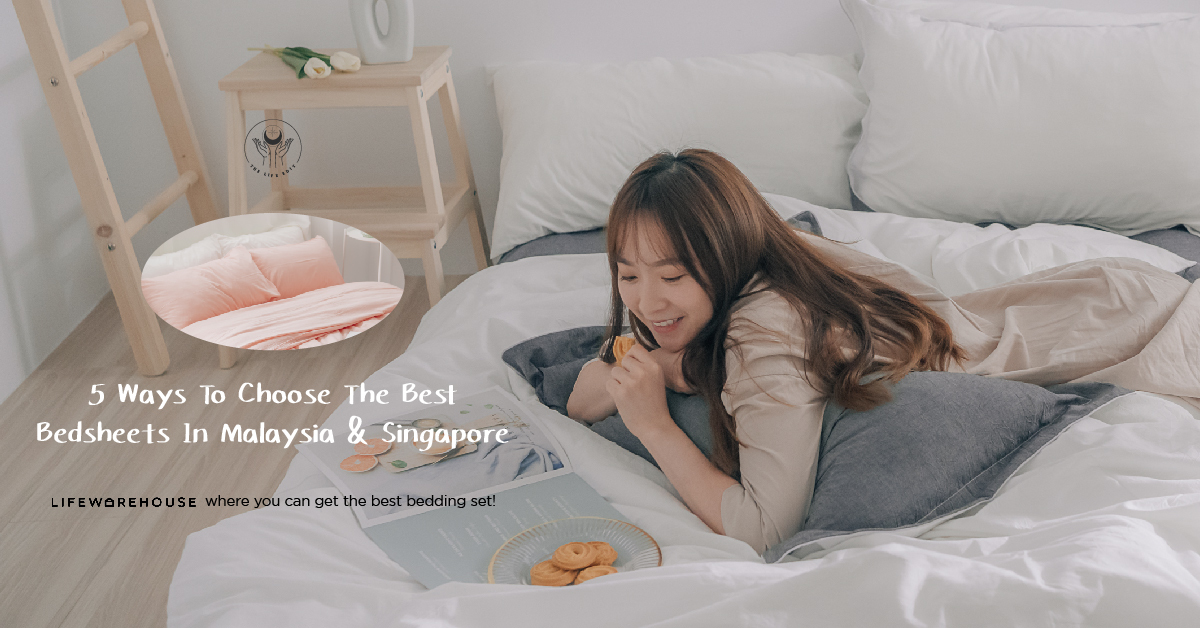 Welcome to the world of bedsheets!
We're excited that you're here because that means you're doing research on how to buy the best bed sheets. In tropical countries, choosing a cooling sheet is important for the comfiest sleep of all time. Since we spend about a third of our day in bed, it's only natural that we would want to make the most out of it. We're looking for bed sheets that meet the big three factors: comfortable, durable, and affordable – just like our very own sheets: where you can get it with a similar quality to MUJI but 70% lower price.
Let's jump right into it. Here are 5 things to consider when buying bed sheets:
Which material makes the best bed sheets, washed cotton vs chiffon cotton?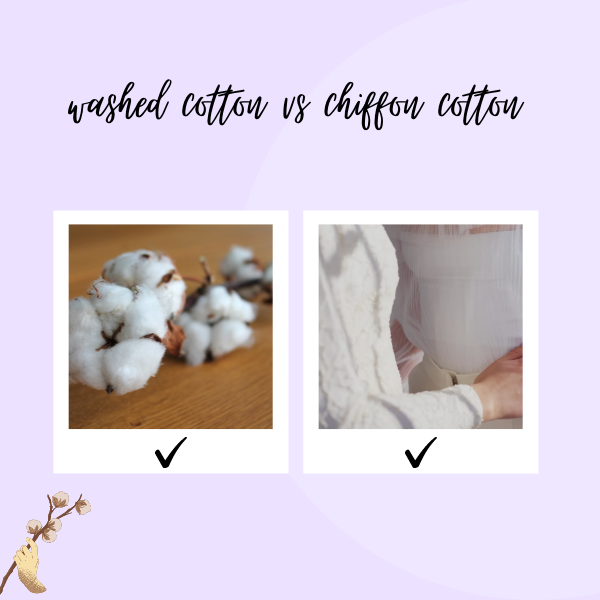 The first thing to consider when buying bed sheets is the material. Read the fiber content first so you will get an idea about the big three factors we just mentioned. The most popular types of bed sheets are made from cotton, Tencel, linen, silk, bamboo, and polyester.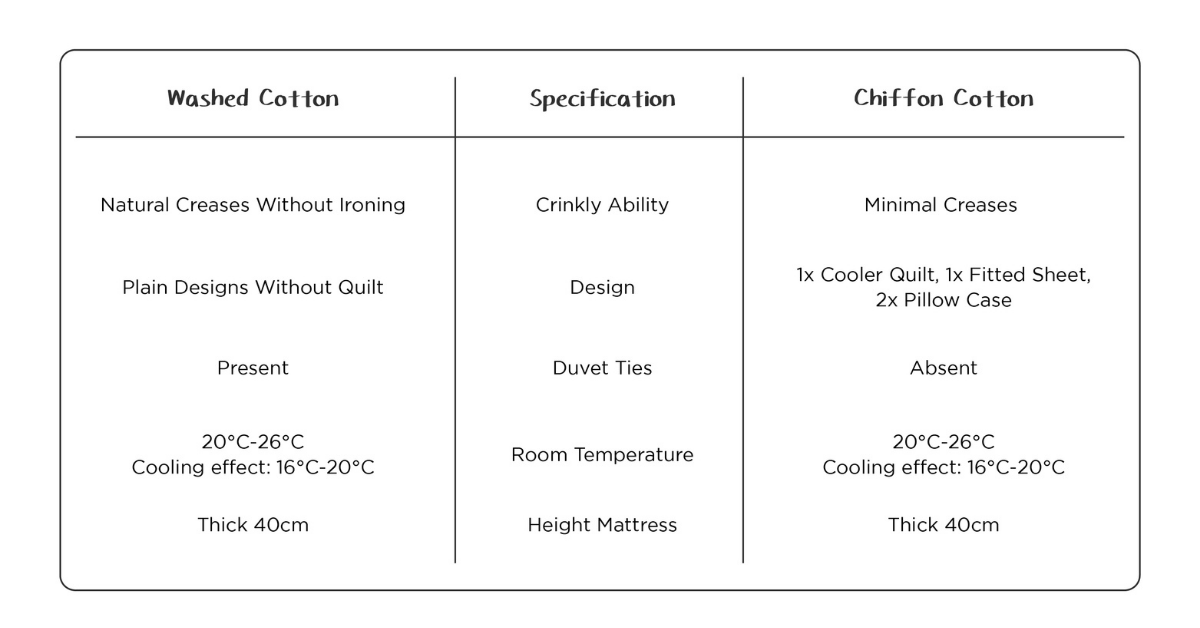 We surveyed the market and after numerous tests, we've decided. Cotton reigns supreme in our region (Malaysia and Singapore). It's a lot cooler than Tencel (which although is softer, is less breathable and becomes hot). Other types tend to be even hotter, particularly polyester blends which last longer but are rough.
The most common type of bedsheet is made from cotton fibers like ours. This is because cotton is easily the most comfortable, durable, and affordable type of bedsheet. Cotton regulates the body temperature, so you sleep fresh and wake up fresh, we call this breathability.
Cotton is also hypoallergenic so it's ideal for sleepers with sensitive skin. If you find the right type of cotton bedsheet you're all set for a very long time because it gets better with every wash – it holds its shape and color while getting softer.
You want to look for cotton bedsheets labeled "100% extra-long-staple cotton". This part can be tricky because most bedsheets labeled "100% Cotton" can feel cheap and scratchy. You'll easily be able to rule out the quality ones by checking out the other considerations: type of cotton, thread count (above 300, but not more than 700), weave, and fit.
Thread Count (TC)
Thread count refers to the number of threads woven together in one square inch of fabric. The yarn is woven in a crisscross pattern, the vertical strands are called warp weave and the horizontal strands are called weft weave. The thread count is the total number of warp and weft weaves in one square inch.
We'll just give it to you straight: thread count is important to consider when choosing a bedsheet, however, you should be suspicious if it is too high or too low.
Imagine it this way: bedsheets with very low thread count could mean the fabric is woven loosely together so there could be holes that would feel rough to the touch and break easily when washed. The competitive market of the bedding industry has led to the myth that bigger is better when it comes to thread count.
Let's debunk this myth: ply is a measure of the number of layers in a bedsheet. Some bedsheets are two-ply or even three-ply and some brands combine the number of threads per square inch and multiply it by the number of layers. While multiple-ply bed sheets aren't necessarily bad it could simply be an indicator that the original material isn't strong enough to stand up on its own.
Over the years, studies by experts and our own tests show that anything between 200-700 is just right. Still, a blur, learn more at our other blog here!
Weave
The sateen weave features a "three-over-one-under" weave which results in more threads on the surface. This creates a silky smooth look and feels for a more cozy sleep. It wrinkles less easily than percale. Ours is a sateen weave giving it what we all want.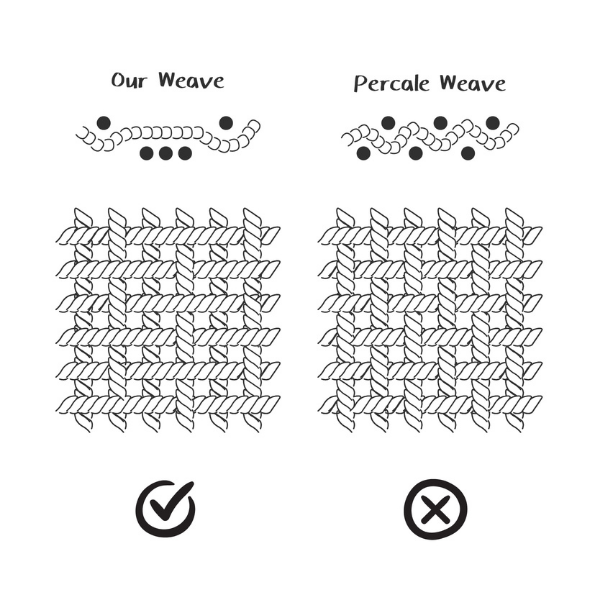 Compared to result in a matte finish that is crisp, cool, lightweight, and breathable. It wrinkles quite easily. – percale weave features a "one-over-one-under" weave
Fit
Of course, the bed sheet has to match the bed. You can double-check that the dimensions of the bedsheets match your bed by checking the size of the bed in centimeter dimensions.
If you're shopping online these are typically found on the description of the bed sheet or on the frequently asked questions (FAQ) section. One thing that is of particular concern is the mattress height. At Life Warehouse, our sheets are made for at least 40cm thick mattresses! No more slip-offs.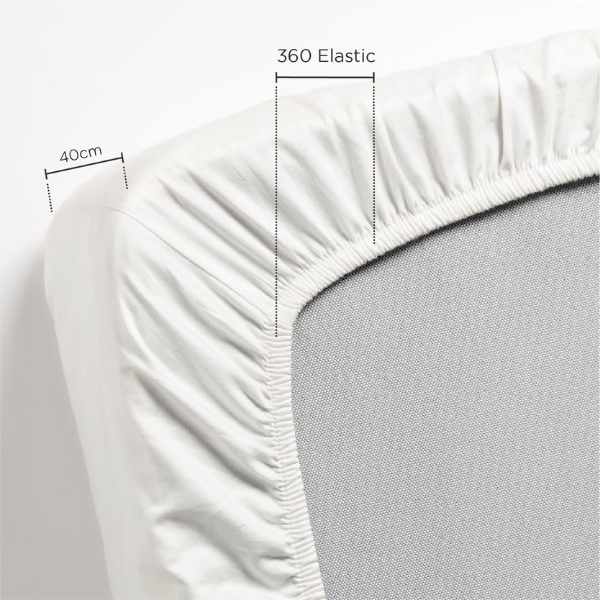 Personal Preference
In this section, your personal preference for design is all up to you. This is where the fun begins where you can choose solids or mix and match colors and designs depending on what kind of sleeper you are. Questions to help you along include: "What is the interior design style of my room?", "How often am I available to change and wash my bedsheets?", "Do I easily feel warm or cold when I sleep?", and "How often do I move around when I sleep?".
We hope this guide has helped you out and you enjoy your search for the bedsheets just for you. Here at Life Warehouse, we believe that everyone deserves a goodnight's rest. Life Warehouse is all about practical comfort for everyone, every day. Check out our collection today!